Create surfaces
A surface is like a rectangular stretchy rubber sheet. The NURBS form can represent simple shapes, such as planes and cylinders, as well as free-form, sculptured surfaces.
All surface creation commands in Rhino result in the same object: a NURBS surface. Rhino has many tools for constructing surfaces directly or from existing curves.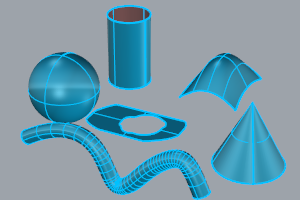 All NURBS surfaces have an inherently rectangular organization.
Even a closed surface such as a cylinder is like a rectangular piece of paper that has been rolled up so two opposite edges are touching. The place where the edges come together is called the seam. If a surface does not have a rectangular shape, either it has been trimmed or the control points on the edges have been moved.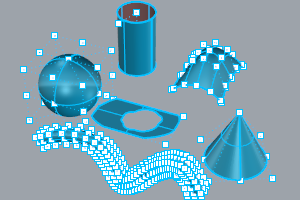 Closed and open surfaces
A surface can be open or closed. An open cylinder is closed in one direction.
A torus (donut shape) is closed in two directions.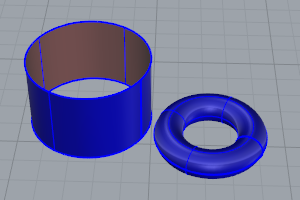 Draw a surface
Create a surface from points
Create a surface from curves
Create a surface from other surfaces
Other methods
See also
Split and trim curves and surfaces
Rhinoceros 7 © 2010-2023 Robert McNeel & Associates. 13-Oct-2023