Shaded display mode
Tools > Options > View > Display Modes > Shaded
The Shaded display mode sets the viewport to opaque shaded mode.
Shaded modes use a mesh to shade surfaces using the layer colors.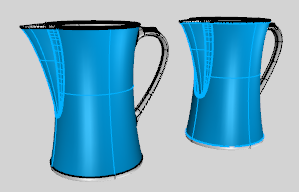 Name
Name of display mode.
Viewport settings
Background
Specifies the viewport background color.
Shading settings
Shade objects
Sets the viewport to opaque shaded mode.
X-Ray all wires
Shades with isocurves not obscured by objects in front.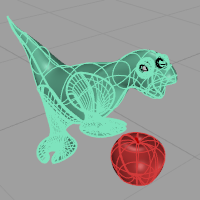 Flat shading
Shades the current viewport with no smoothing so the individual render mesh faces are visible.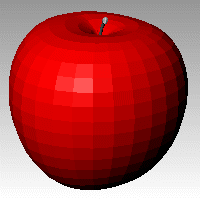 See: FlatShade.
Shade vertex colors
Shades using an object's vertex colors.
See: ComputeVertexColors.
Backface settings
Changes the color of the backface (the side opposite of the ).
Use front face settings
No color change.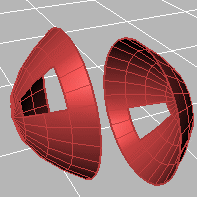 Cull backfaces
Surfaces viewed from the back will be transparent.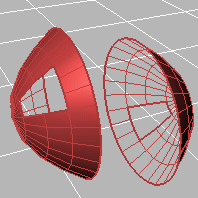 Use object's color
Surfaces viewed from the back use the color specified in the object's Properties.
Single color for all backfaces
All backfaces display a specified color regardless of the object color.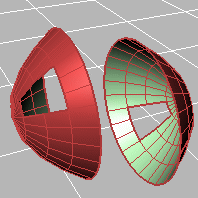 Rendering material
Shades using rendering material.
Custom material for all backfaces
Click the Customize button to specify the custom material.
Visibility
Specifies which elements will be visible in the display mode.
Show isocurves
Shows object isocurves.
Show tangent edges
Tangent polysurface edges are smooth edges between different faces of a polysurface.
Show tangent seams
Tangent seams are smooth edges that close surfaces such spheres or cylinders.
Shows mesh wires.
Show SubD wires
Toggles visibility of SubD smooth edges.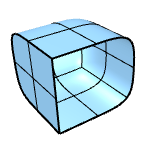 Show SubD creases
Toggles visibility of SubD creased edges.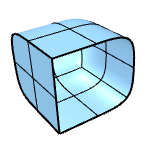 Show SubD boundaries
Toggles visibility of SubD naked edges.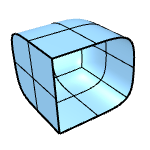 Show SubD symmetry
Toggles color differentiation of SubD symmetry children.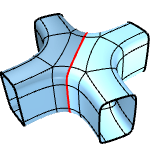 Change the display color of symmetry children
Show mesh wires
Toggles visibility of welded mesh edges.
Show curves
Shows curves objects.
Show lights
Shows lights objects
Show clipping planes
Shows clipping planes objects.
Show text
Shows text blocks.
Show annotations
Shows annotations objects.
Show points
Shows points objects.
Show pointclouds
Shows pointclouds objects
Lighting scheme
See Lighting scheme settings.
Shadows
See Shadows settings.
See also