Bounce

The Bounce command shoots a ray at a collection of surfaces to create a polyline path.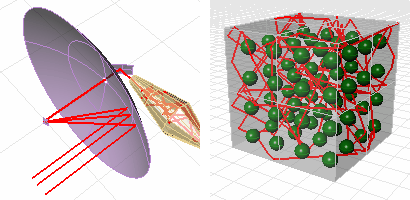 Steps
reflecting surfaces.

Infinite Plane: Type IP for options.

the ray start point.
Pick the ray direction.
Command-line options
Reflections
The maximum number of times the ray will be reflected.
ArrowLength
The length of the segment with the arrowhead. If 0, no arrowhead segment is drawn.
See also
Create curves from other objects
Rhinoceros 7 © 2010-2023 Robert McNeel & Associates. 09-Mar-2023