SubDDisplayToggle
The SubDDisplayToggle command switches the appearance of all SubD objects between smooth and flat modes.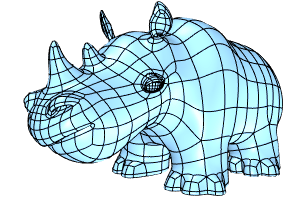 Steps
Press Tab.

The Tab key does not toggle SubD display while you are picking a direction in commands because, at this point, the Tab key is used for locking a direction. To toggle SubD display while picking a direction, click on the toolbar, or map the SubDDisplayToggle command to a key (e.g., F4) in Tools > Options > Keyboard and use it.
The SubDDisplayToggle command:
Is nestable (can be run while other commands are running).

Does not change object selection states.
Rhinoceros 7 © 2010-2022 Robert McNeel & Associates. 28-Jul-2022