LayerBook
The LayerBook command moves through the layers of a model sequentially, just like turning the pages of a book or a slide show for demonstration and training. In other words, the Layerbook feature animates the "on/off" and current state of layers in the Rhino model.
Example
Download and open the example model in Rhino.
Start the

LayerBook

command.
Click the

Next

and

Previous

.
Type

1

and press

Enter

to rewind to the first layer.
Create a LayerBook
Create multiple layers.

Each layer represents a slide of a presentation.

Add objects and text on each layer.

Start the LayerBook command.

In the command-line, click Advanced > PrepareToSave.
The LayerBook command only works in model viewports. Layout and detail viewports are not supported.

The All layers on button on the can be helpful while you are working with the Layerbook command.

In the Layers panel, click the name column header to sort layers by names in ascending or descending order.

Click the Move Up , Move Down buttons, or drag with the mouse to sort layers manually.
Command-line options
LayerBook [Number]
Type a number to jump to a specific layer in the slide show. Layer numbers are counted from 1, and from top to bottom.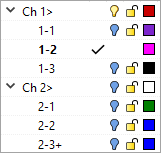 Type 1 to rewind to the start layer.

Type a negative number to count layers in the reversed order. For example:

-1 goes to the last layer.

-2 goes to the second to last layer.

If the negative number is less than -(total number of layers), then you end up on the first layer.

If a number points to a header layer, the layer next to it is selected instead.
Next
Sets the next layer current and turns off all the other layers.
Previous
Sets the previous layer current and turns off all the other layers.
Stop
Quits the LayerBook at the current layer.
Run the LayerBook command again to continue.
Advanced
InitialViews
NamedView
Select a named view as the initial view for layers. You can use different named views to display different layers.
Layers
Specify how a named view is associated with layers.
Current
The current layer only.
CurrentToEnd
The current and all subsequent layers.
All
All layers.
PrepareToSave
Sets all text objects to display in front and adjusts layer visibility so you can save the model in a state that is ready to open and play a LayerBook.
Print
Provides a text overview of the Layerbook structure and associated named views.
Header and addition layers
Header layer
Adding a ">" to the end of a layer name makes a "header layer." The slide show skips header layers. Header layers can be empty and only used as organizers.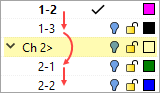 Addition layer
Adding a "+" to the end of a layer name makes an "addition layer." The slide show displays the layer as an addition to the previous layer.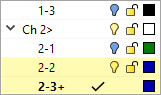 Rhinoceros 7 © 2010-2023 Robert McNeel & Associates. 03-May-2023