IntersectSelf
The IntersectSelf command finds self-intersections in curves and marks them with point objects. Intersections between curves are ignored.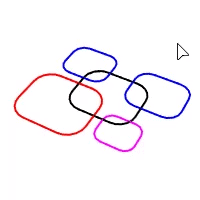 See also
Create point objects or curves at the intersections of curves and surfaces.
Find the intersection of one set of objects with another set of objects.
Create a polyline at the intersection of mesh objects.
Creates polylines from self-intersections of mesh objects.
Rhinoceros 7 © 2010-2022 Robert McNeel & Associates. 04-Jul-2022