InsertPoint
The InsertPoint command adds vertices and edges to a Mesh or SubD along the picked points on edges.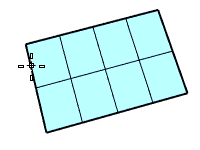 Input
Steps
Select a mesh or SubD.

Pick points on edges.
Options
Undo
Removes the last picked point.
See Also
Inserts edges beside an edge loop or across an edge ring on a SubD or mesh.
Rhinoceros 7 © 2010-2022 Robert McNeel & Associates. 28-Jul-2022