Flashlight - Revolve Curves
Creating surfaces from curves and joining the surfaces together allows you much greater freedom.
This tutorial introduces the concept of drawing curves and one method of creating surfaces from those curves.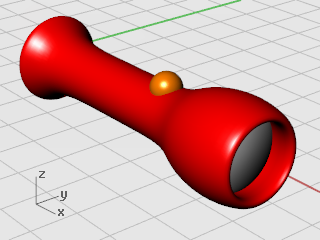 You will learn how to:
| | | |
| --- | --- | --- |
| | ● | Draw free-form curves based on an existing object. |
●

Revolve surfaces around an axis.

Revolving curves is a good method for creating tubular shapes like vases, wineglasses, and chair legs.
You are going to use a basic flashlight as a guide for drawing the curves you will need for the new model. Using the basic flashlight gives you a frame of reference for deciding about the size and shape of the object.
Set up the model
You are going to trace around the old flashlight. To make this easier, you will lock the objects. When objects are locked, you can see them and snap to them, but you cannot select them. This keeps the objects from interfering when you want to select things close by. You can still use object snaps to snap to locked objects. You will then create some curves and revolve them to make the new flashlight.
Draw a centerline
Draw a construction centerline through the center of the old flashlight.
Draw the body profile curve
You are going to draw a profilecurve that you will use to revolve to create the flashlight body. A profile curve defines a cross-section of one half of the part.
Draw the lens profile curve
Make another profile curve for the lens.
Build the flashlight body
To make the body, you will revolve the profile curve 360 degrees. You will use the endpoint of the curve and ortho to establish the rotation axis.
Create the lens
Now revolve the lens profile curve in the same way as the body.