Intersect

The Intersect command creates point objects or curves at the intersection of at least two curves and surfaces.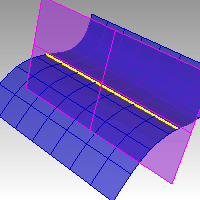 Steps
.
This creates a curve or point object at the intersection of the two objects.

Note
Intersecting curves with other curves or surfaces results in curves or point objects.
Intersecting surfaces or polysurfaces with surfaces or polysurfaces results in curves.
To create surface and solid intersections, use the BooleanIntersection command.
The IntersectTwoSets command finds the intersection of one set of objects with another set of objects.
Intersections among objects within each set are ignored.
Steps
Select objects for the second set.

See also
Create curves from other objects
Rhino for Mac © 2010-2017 Robert McNeel & Associates. 24-Oct-2017