ConvertTextToBlockAttribute
The ConvertTextToBlockAttribute command turns exiting text objects into block attributes.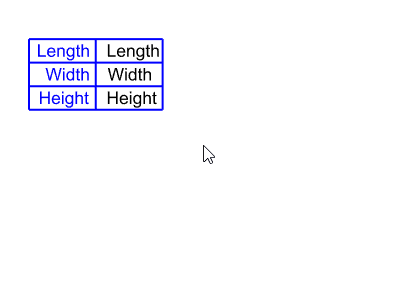 Steps
Start the command.

Select existing text objects, press Enter.

The text objects appear in the dialog box as keys.

Enter prompt and default value to each key. (Optional)

Use the Block command to create a block from the text objects.

Other objects can be included in the block.

Enter a value for each key, click OK.

The block attributes are added to the properties of the block instance as key-value pairs in Attribute User Text that can be modified.

Insert more instances of the block.
See also
Create text with BlockAttributeText text field
AddMissingBlockAttributeKeys
The AddMissingBlockAttributeKeys command restores the Attribute User Text key that has been deleted from the properties of a block instance.
Example
Select a block instance that contains block attribute text strings.

Delete a block attribute text key in the Properties panel > Attribute User Text.

Run this command.

The deleted key is added back.

Enter a new value for the key.
See also
Create text with BlockAttributeText text field
Convert text into Block Attribute Text
Rhinoceros 7 © 2010-2022 Robert McNeel & Associates. 04-Jul-2022