RevCloud
The RevCloud command draws a revision cloud polycurve.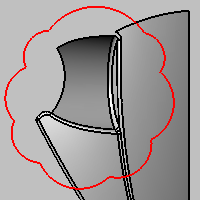 Steps
the start point of the revision cloud curve.
Draw the curve counter-clockwise to make the arc segments bulge away from the center of the cloud.
Continue picking segments, and press when done.
Command-line options

Curve

Converts an existing curve to a revision cloud curve.

Angle

The angle of the arc between 90 and 180. This indicates the amount of bulge in the segments.

Divide

Specifies the number of bulge segments.

Length

Specifies the chord length of the bulge segments.

Close

The Close option appears only after three points have been placed. Closes the curve.

Flip

Reverses the .

Undo

Reverses the last action.
See also
Rhinoceros 6 © 2010-2020 Robert McNeel & Associates. 11-Nov-2020