DupEdge
The DupEdge command creates curves from the selected surface or mesh edges.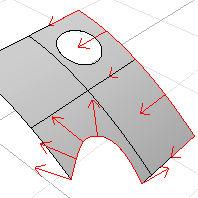 Steps
the edges of a surface or mesh object.

Ctrl+click to deselect an edge.
The curve created from a trimmed surface edge has a different structure than the curve used to trim the surface.
Command-line options
OutputLayer
Current
Place the results on the current layer.
Input
Place the results on the same layer as the input curve.
If the input object is in a model that is attached using Worksession, the object will be placed on the current layer.
Hidden command-line options
Selects connected curves or edges based on continuity conditions.
See also
Create curves from other objects
Rhinoceros 6 © 2010-2020 Robert McNeel & Associates. 11-Nov-2020