QuadrangulateMesh

Where can I find this command?
The QuadrangulateMesh command merges mesh triangles into quadrangles.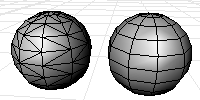 Note: Diagonals that are unwelded (have unique vertexes at the corners) will not be considered as candidates for merging triangles into quadrangles.
Options
Planarity
The angle between the face normals of the triangles.
Rectangularity
Specify a number greater than or equal to 1. If the adjacent triangles pass the planarity test then they will be merged into a quadrangle if the largest ratio of the lengths of the diagonal is less than or equal to the number you typed, then the triangles are converted to quadrangle.
See also
---
Rhinoceros 5 © 2010-2015 Robert McNeel & Associates. 17-Sep-2015