MeshTorus

Where can I find this command?
The MeshTorus command draws a polygon mesh torus.
Steps
| | | |
| --- | --- | --- |
| | 1. | the center and radius of the base circle. |
Note: See the Circle command for option descriptions.
2.

Pick the radius for the torus cross section.

Your browser does not support the video tag.
Face options
AroundFaces / VerticalFaces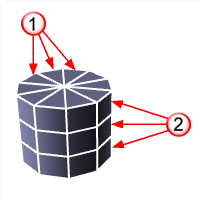 AroundFaces (1)
The number of faces around the circumference.
VerticalFaces (2)
The number of faces from the base to the apex.
Second radius options
Diameter/Radius
Click the option to toggle between picking a Radius and picking a Diameter.
FixInnerDimension
The first radius chosen sets the inner dimension of the torus and the second radius is constrained to be outside of the first radius.
See also

Torus
Draw a torus (donut shape).

Mesh
Create a mesh from a NURBS surface or polysurface.
---
Rhinoceros 5 © 2010-2015 Robert McNeel & Associates. 17-Sep-2015