CollapseMeshVertex

Where can I find this command?
The CollapseMeshVertex command moves a selected mesh vertex to the location of an adjacent mesh vertex.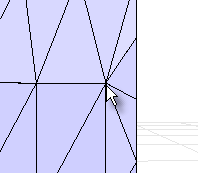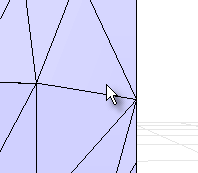 Mesh vertex
The location where the edges of the mesh faces meet. The mesh vertex (plural vertices) contains x-, y-, and z-coordinates and may contain a vector normal, a color value, and texture coordinates.

Steps
a mesh vertex.
The adjacent faces adjust to fill the hole.
Notes
| | | |
| --- | --- | --- |
| | ● | Some STL/SLA printers have problems if meshes contain many long, thin facets. These can slow the printer's slicing process down, produce odd printed results, and run the printer out of memory. |
| | | |
| --- | --- | --- |
| | ● | The MeshRepair command may be useful when tuning up meshes for STL/SLA printing. |
See also
Collapse mesh faces and vertices
---
Rhinoceros 5 © 2010-2015 Robert McNeel & Associates. 17-Sep-2015